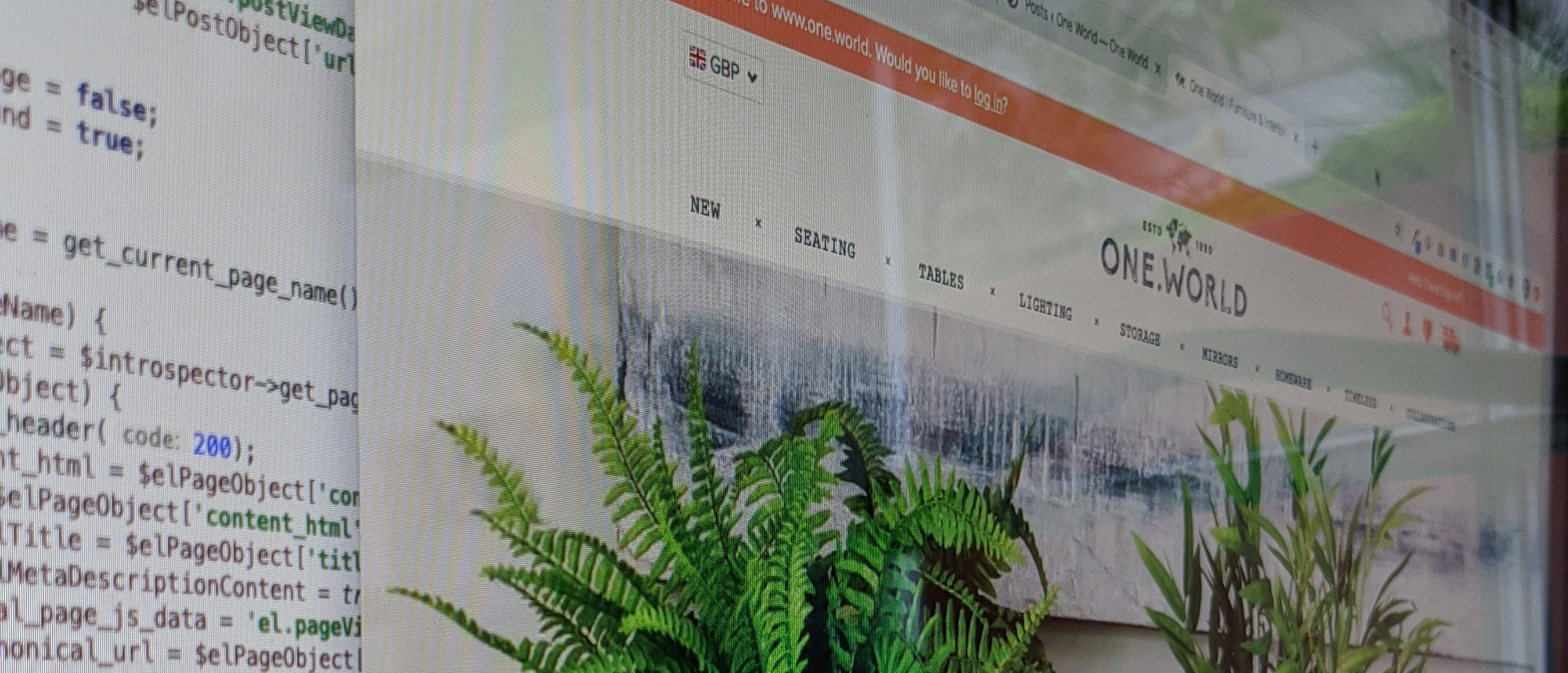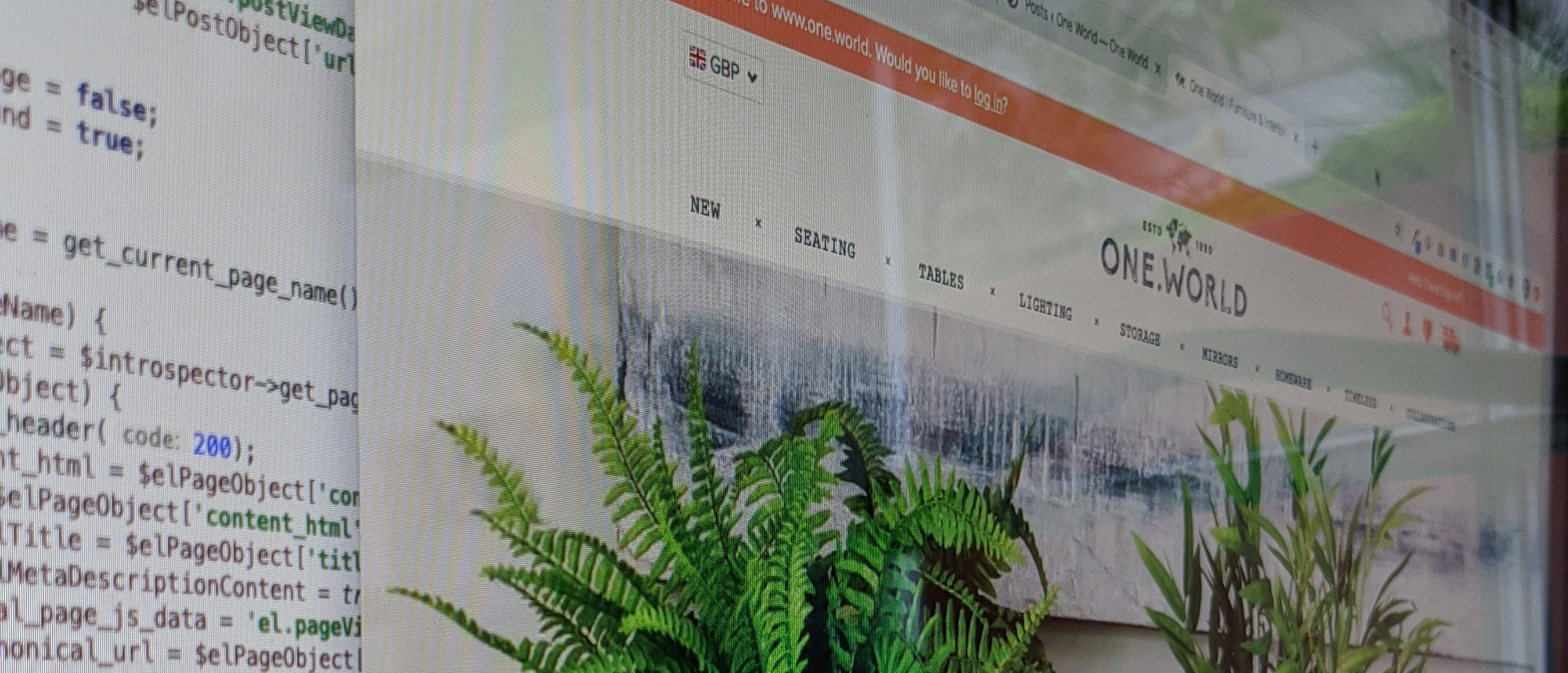 Get Online Today
One.World E-Commerce Guide
by
Will Ryan from Electric Labs
Posted in
Product Focus
on
4th April 2020
With government enforced closing of most high street shops, it is a difficult time for our trade customers. Here at One.World, we really want to support you as best we can. To do this, we have enlisted the help of  Will Ryan from our digital agency, Electric Labs, to give some guidance on how best to begin selling your products online.
Watch the recap video here: tiny.cc/OWConnect
Is it difficult to sell online?
Not any more! A long time ago you had to enlist expensive programmers and designers (like us ooh err!), and the barrier to entry was high, but these days, it's really quite easy to set up a simple online shop.
What do I need to do?
You really need four things to set up an online shop.
Choose a domain name. We use www.one.world.
Choose an e-commerce platform. We recommend Shopify.
Choose a theme, which is how your shop will look.
Upload your company logo, product data, choose a few options.
Finally, you need some patience. This won't take a few hours, it might take a few days, but hopefully the results are worth it!
These days, it really is quite easy to set up a simple online shop.
How do I choose the best domain name?
Be creative! Many domain names are already taken, and can be expensive to buy from the current owners. But many are not taken if you look for variations of your company name. You also do not need to use .com and .co.uk any more… there are plenty of new domain extensions that you can use, for example, we use .world!
Type your business name into the Shopify Domain Name Generator here and see what you can find today!
Which e-commerce platform should I choose?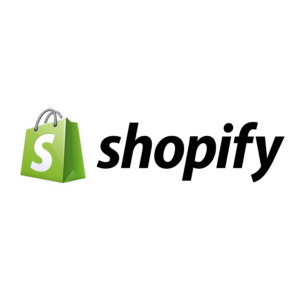 Shopify is easy to use, plus it sorts out things such as domain names and hosting for you. There are also a wide variety of templates for you to choose and configuration and design requires ZERO technical knowledge.
There are other options such as Squarespace and Wix, which are quite similar to Shopify. Woo Commerce is also an option, but a little more complex to set up.
How do I choose a good theme?
There are lots of themes available, many of which are free. Others are also available from Theme Forest. Try to choose one that fits your shop's personality and brand! Each theme can be customised with your logo and products. You can specify your own product categories, and menus and a lot more.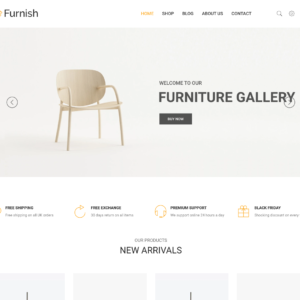 How do I advertise my online shop?
There are lots of ways to advertise your online shop:
Tell your existing customers!
Tell them via your Instagram or Facebook page if you have one.
Send a leaflet to their homes if you have their address details.
Put up a sign in your shop window.
Create a newsletter, and send it to your email list.
You can even advertise your products using Google Shopping and Instagram, but this is quite expensive, and can be tricky to set up.
We're not going to say its super easy to advertise your shop, but at a time like this, many people are looking to make home improvements, set up a home office, and generally make self confinement a little more beautiful!
Where do I get my Product Information from?
If you bought products from One World, we provide a download of all our product imagery and product data, simply email sales@one.world. For other products, you can shoot the products in your store, or in your garden, or against a white backdrop using a modern smartphone e.g. an iPhone or a digital camera (DSLR).
Make sure to use as much natural light as possible, maybe shoot on a white background, maybe invest in an external flash. Great product photography is vitally important, make sure you shoot the product in various angles, including a close up.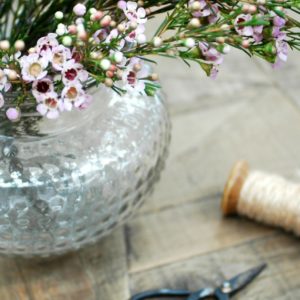 How do I manage Payment?
This is all built in with a service like Shopify. The checkout will simply work out the box, enabling you to accept credit cards, debit cards, Apple Pay and more! There will be a small fee on card transactions which work out at about 2.2%.
How do I manage Shipping?
There are lots of options in the UK, from DPD to DHL. They all offer pickup services which you can book in yourself via their websites, so you do not need to leave your shop, essentially using it as a mini warehouse.
What does it cost?
There are a few costs associated with running an online shop:
A domain name might cost around £30/year.
Shopify costs about £25 for the basic package.
Some Shopify themes are free, others cost up to £150
Need Help?
Sometimes it can be all a bit overwhelming and you can get stuck. Sometime YouTube Videos can be a great resource. Ask a relative or friend who may help you overcome that hurdle! With many school children at home right now, it might be a fun project to get them to help you with as it is second nature to many of them.
Always ask for feedback from friends and family. Use inspiration from other sites to help you get the set up right.
Need more technical support? Electric Labs are offering reduced rate support with one of our junior developers at a rate of £15/hour via Skype (Live Chat or Share Screen).
---
We'll be holding an online conference on Thursday 9th April 2020 at 11am to answer any questions that you may have. To join, just visit tiny.cc/OneWorldConnect  we look forward to seeing you there.