Great ideas:
Wedding styling
by
Caroline Rowland
Posted in
Ideas
on
22nd June 2016
Wedding season is upon us, and if you are in the middle of planning your big day, you'll know how many little details there are that need your creative attention. We thought we'd share some of our favourite styling ideas and point you in the direction of where to find those extra special touches...
Table styling
Getting your table just right will really wow your guests as they enter your reception. Of course there are lots of different looks you can go for, and whether it's relaxed boho, full on glam or a vintage vibe, great centrepieces, candles and flowers are a must…
Lanterns are great centrepieces, filled with candles or flowers, a mass of small votives is perfect for creating a twinkly effect and tall candelabras and hurricanes add height and drama… Click on the product images below for more details and to purchase.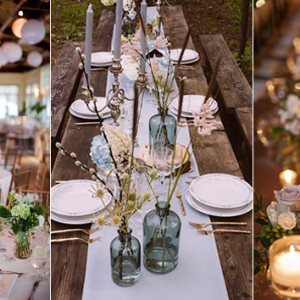 Table details
As well as these main elements on your table, you can add extra interest with things like old books – this is a great technique for adding height, so that your table doesn't appear on one level. Bell jars are also a stylish way to add a personal touch – fill them with interesting items relating to you and your other half, or simply display some flowers or plants under there. The final special touch is your favours, and whatever you decide to gift your guests with, it's always nice to present them beautifully, in a little bag or box.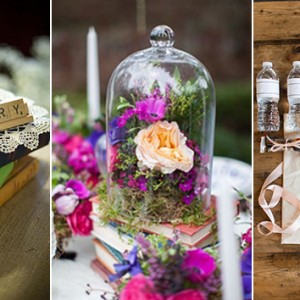 Style the rest
But of course it's not just your tables that need beautiful styling! Think creatively when it comes to your cake and flowers. Even if your cake is being made for you, you can give the baker your own stand or anything you want it displayed on. Same with flowers – you can supply the florist with whatever vases or receptacles you like. Also, if it turns out your favourite flowers are not in season at your wedding, why not consider some faux versions? Then can look just as fabulous and can be mixed with real flowers. They are perfect for creating hanging displays too. If your wedding is outside, in a barn or marquee, it's useful to add pieces of furniture to display things on – whether that's a mini bar (like the pic below – although more suited to smaller weddings!), or your guest book or photos – but make sure to style this beautifully too using more flowers and other decorative items.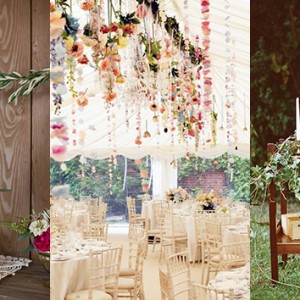 Personal touch
Finally, photo frames always seem to come in handy for wedding decor. It's lovely to have photos of loved ones or from your time as a couple displayed for your guests to look at, and they can also be used for table plans and numbers. Go for mismatched frames for an eclectic look or one of our multi frames are good for a more uniform display.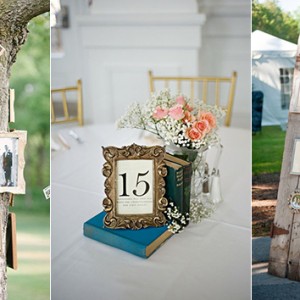 It's so exciting to plan and style a wedding, so we hope you might have found some ideas! Do let us know if we can help in any way! Have a wonderful day! :)
Photo credits:  1 / 2 / 3 / 4 / 5 / 6 / 7 / 8 /  9 / 10 / 11 / 12