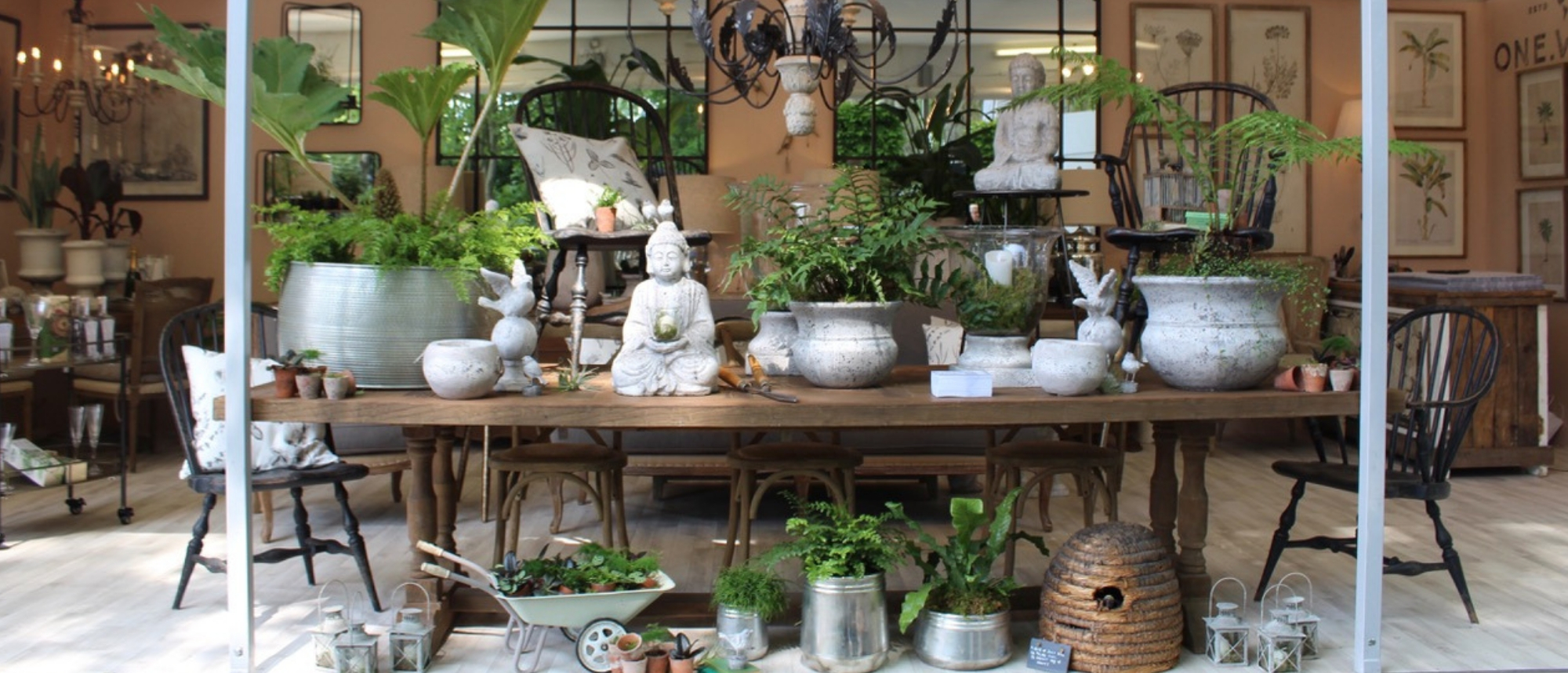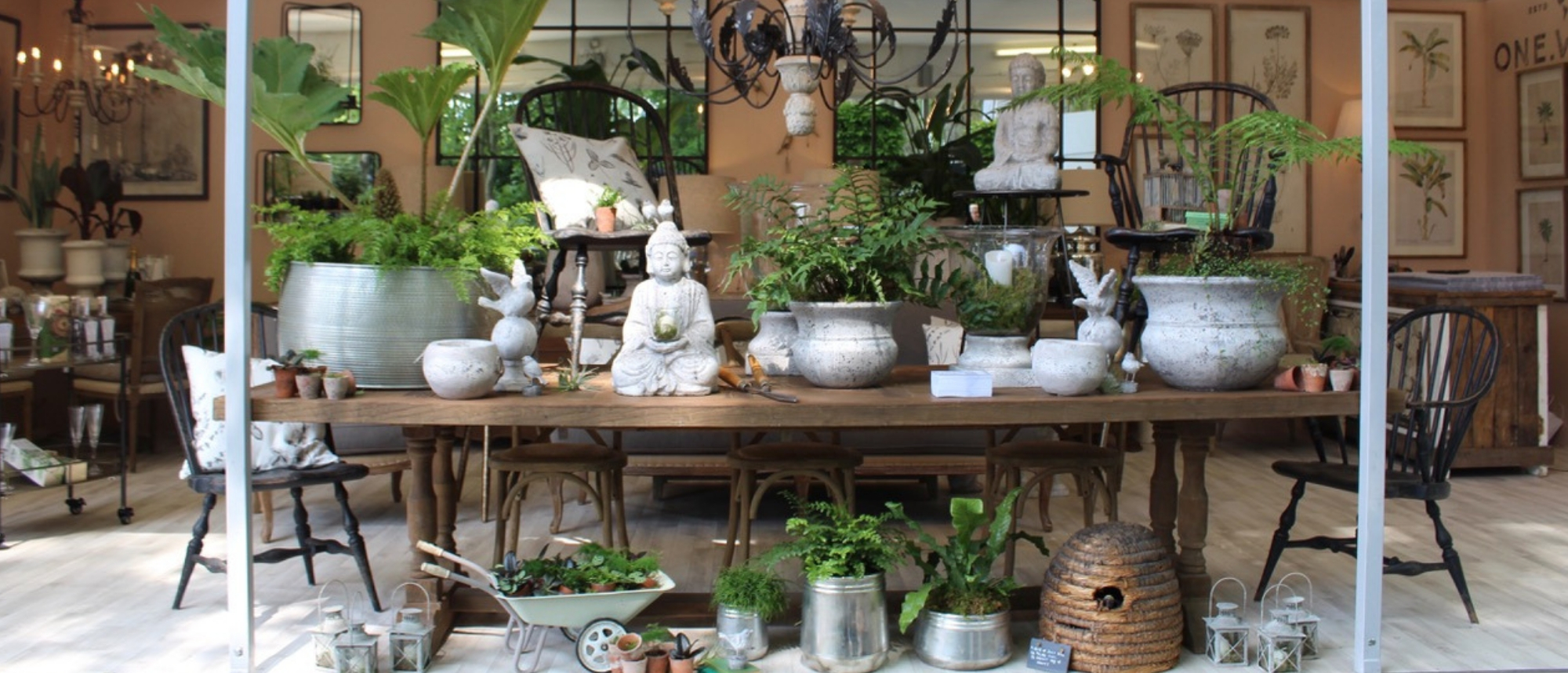 News
Behind the Scenes at Chelsea Flower Show
Nestled next to Sophie Allport and opposite the amazing Andy Sturgeon's M&G garden (which won Best in Show - huge congrats, Andy and team) was our dusky pink and oh-so green stand at this year's Chelsea Flower Show 2019 🌸.
Now in its 107th year, with around 168,000 visitors through its gates and over 500 exhibitors – you can imagine the kind of planning that goes into a show like this.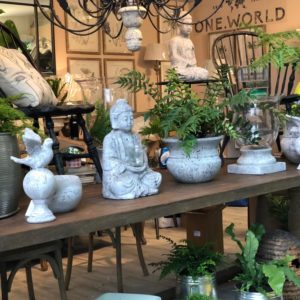 Here at One World we are lucky enough to have a host of different looks that can work across many different aesthetics – but this also makes our jobs a little trickier when it came to deciding what to present at this year's Chelsea. This year our focus was on the power of certain pieces to make a real a statement and we included a handful of One World favourites to help translate this idea on our relatively small stand.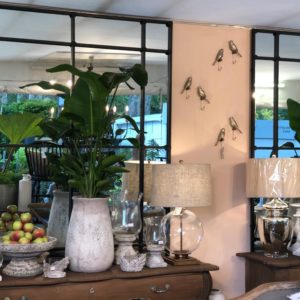 We included our Fairfield oversized iron mirrors, our beautiful Brabham armoire, twelve-seater reclaimed wooden dining table and a large selection of our biggest stone planters and vases from our Birkdale range. To bring these pieces to life we teamed up with garden designer Jack Wallington who specialises in the unusual to help bring the best out of these pieces.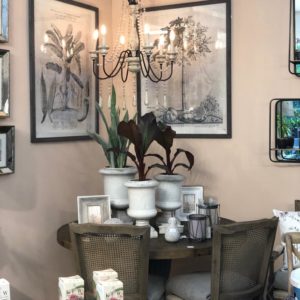 Seeing as Jack's the expert, we thought we'd let him share his thoughts, ideas, and how he brought our stand to life.
"One World's stand at the Chelsea Flower Show was filled with their signature chic furniture and containers, plus botanical prints from Kew, which presented an exciting opportunity for using large leaf tropical plants. A light colour theme to the stand this year contrasted really well with fresh green tropicals, which are really trendy at the moment and, because of the Kew link, I wanted to include as many unusual plants from around the world as possible."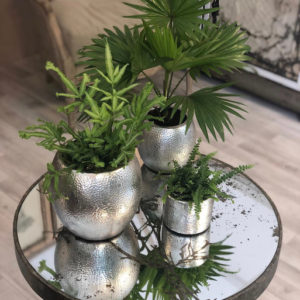 "At the front of the stand, I chose a variety of evergreen outdoor plants including Fatsia polycarpa 'Green Fingers', a species with finer leaves than normal, Schefflera taiwaniana a hardy umbrella plant from Taiwan and a young tree fern from Australasia, Dicksonia antarctica. For a real showpiece, Gunnera manicata, the giant rhubarb from Brazil with its thorny stems created our focal point. All of these will eventually need to be planted in the ground but will be happy in pots outside for a year or two and are easy to grow."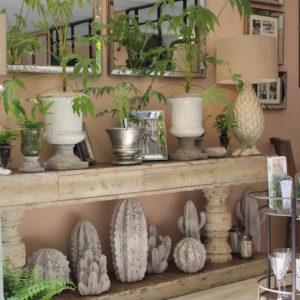 "Around the inside of the stand I began with lots of indoor ferns including Asplenium bulbeliferum and Asplenium nidus 'Parvati'. A small indoor palm with rounder leaves called Livistona rotundifolia was then positioned in a small curved pot on a side table, while Sansevieria 'Metallica', with its sword shaped upright leaves really suited the taller urns perfectly. Sansevieria being particularly easy to care for house plants that like shade and less watering, although 'Metallica' is a rarer variety. In the biggest urns at the back we planted the black bird of paradise, Strelitzia nicolai, which is suitable for large conservatories. All of these plants can be bought from The Palm Centre and many other specialist nurseries."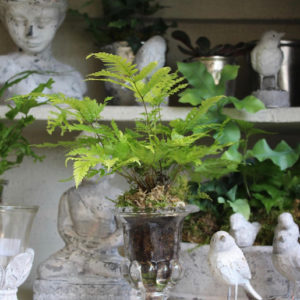 "For a little extra, I ordered a number of air plants from Crafty Plants to dot around the stand. Air plants are fantastic because they come in different shapes, from fuzzy pom-poms to long ponytail shapes and they don't need any soil at all! Simply place in quite a bright, sunny spot inside and mist them every few days, or submerge in water for a few minutes each week. At the opposite end of the scale, Marimo moss balls are underwater moss that you can keep in glass jars in the house for an interesting botanical feature and I thought One World's jars were the perfect home. They're inexpensive, found in aquatic pet shops, or bought from sellers on eBay.co.uk (simply empty and replace the water each week to keep clean)."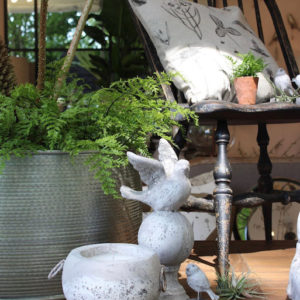 And! We're delighted to say that we won a 4-star 🌟 award for our Chelsea tradestand. Combined with all the lovely people that visited our stand (which was always full of people) it was an amazing week and we're still riding the high!
Until next year…
Sophie & Jack 
---